Scritto da Riccardo Bindella
Giovedì 24 Dicembre 2009 18:23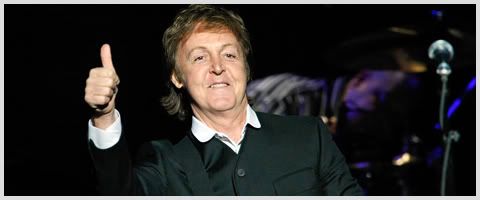 Harmonix ed Electronic Arts hanno appena comunicato che a partire dal prossimo 5 Gennaio per Xbox 360, ed il 7 Gennaio per Wii e PlayStation 3, saranno rilasciate sul Rock Band Store tre canzoni di Paul McCartney.
Intitolato "New York City Pack 01", il DLC conterrà le seguenti tracce: "Band on the Run"; "Jet" e "Sing the Changes", tutte rigorosamente in versione live.
Per tutte le ulteriori informazioni vi rimandiamo alla lettura del comunicato stampa ufficiale, disponibile subito dopo il break.
---
Guildford,UK. – Dec. 24, 2009 - Harmonix and MTV Games today announced that a three pack of songs from Paul McCartney's latest live album will soon be added to the Rock Band Music Store of downloadable content for the Xbox 360® video game and entertainment system from Microsoft, PlayStation®3 computer entertainment system and Wii™.

Paul McCartney joins the more than 390 bands currently available through the Rock Band platform. With more than 1,000 songs available, Rock Band is, without question, the industry leader in providing the best selection of interactive musical content, songs and artists.

Paul McCartney's historic three-night musical christening of New York's Citi Field, witnessed by 120,000-plus attendees and universally hailed as a concert experience for the ages, was immortalized Nov. 17, when Hear Music/Concord Music Group released Good Evening New York City. This momentous musical experience is available in two formats: a three-disc (two CDs and one DVD) standard edition and a four-disc (two CDs and two DVDs) deluxe version, featuring expanded packaging and a bonus DVD including McCartney's traffic-stopping, headline-making July 15 performance on the Ed Sullivan Theater marquee.

And beginning Jan. 5, Rock Band and McCartney fans will be able to download "New York City Pack 01" in the Rock Band Music Store. McCartney's solo debut on the Rock Band platform includes "Band on the Run (live)," "Jet (live)" and "Sing the Changes (live)." These tracks will be available Jan. 5 for the Xbox 360 and Wii and Jan. 7 for PlayStation3.

Price: £.99 UK (160 Microsoft Points for Xbox 360) per track
£2.49 UK (440 Microsoft Points for Xbox 360) for "New York City Pack 01"
(200 Wii Points™) per track